WELCOME!
"The weather this week was incredible, 70 and sunny. Never saw a bit of rain...but, lots of whales, eagles, porpoise, bear, moose etc."
Welcome to a summertime adventure with an ocean-inspired cruise and an exhilarating land tour of Alaska. Alaska...where summertime memories last forever. We invite you to experience Alaska as only we can show you. We offer a range of enriching options to see the Great Land's glaciers, frontier towns, wildlife and national parks from the perspective of spectacular ships, exclusive rail service and wilderness lodges.
Why Alaska? Up north there's a land without fences. Animals outnumber people, sunlight shines at midnight and nature reigns. Life is different. This northern frontier still boasts pristine landscapes, majestic wildlife and a coastline that is one of the most enthralling waterways in the world. Beyond Alaska's fortress-like glacier walls lie scenic ports of call, treasured national parks, and abundant wildlife. .....and, with more than 1,400 miles north to south and 2,400 miles east to west, Alaska is truly a land of epic proportions. Come find yourself in the heart of the wilderness and let our Certified Alaskan Cruise Experts show you the way.
Cruising Alaska is about more than just moments. Cruising Alaska is about memories that last forever.
"Say Alaska and a variety of images and impressions come to mind: towering mountains, watchable wildlife, icy blue glaciers, endless wilderness, vibrant Native culture, leaping salmon, hardy outdoors; America's last frontier. Often, visiting Alaska has as much to do with what people may feel as with what they will see. There is a mystique that surrounds Alaska. To some it represents a dream, a trip of a life time, a life altering event, a chance to reach out and touch something inside themselves that is wild and beautiful like they imagine Alaska to be. Our job is to put that dream - or as much as possible of it - within reach of you. Alaskan cruising is affordable, only the memories are priceless! When it comes to planning your trip, Alaskan Cruises & Land and Sea Vacations are more economical than you might think. With a wide range of options and choices, there's a cruise or cruise tour to suit most any budget."
Need Help? Have Questions? Want More Information. Call toll free: 800.365.1445. Speak to a Certified Alaskan Cruise Travel Expert.
Ask all the questions you like. We'd love to share our hands-on "been there, done that" experience with you.
MORE INFORMATION
Get a FREE Alaska Cruise or Cruise Tour Price Quote : Mini-Group rates for as few as 3 cabins- 6 people!
Alaska Gold Rush Cruise Deals - Learn More
Alaska Port Guides: Seattle : Vancouver
What Can I Do In Alaska? Browse hundred's of ideas now.
Alaska - What to Know Before You Go!
Alaskan Cruise Travel Articles : Read about the glaciers, wildlife, frontier towns, and Denali National Park
101 Things to do in Alaska : Alaska Sightseeing Tours for All Types of Explorers
See us on Pinterest
A reader asks:
What's the real difference between a Holland America and a Princess Cruise Tour of Alaska: Find The Answer Here
Alaska's Wilderness Lodges : Denali Princess Wilderness Lodge, Mt. McKinley Princess Wilderness Lodge, Fairbanks Princess Riverside Lodge, Cooper River Princess Wilderness Lodge, Kenai Princess Wilderness Lodge
Denali National Park : Denali Park Sightseeing Tour Options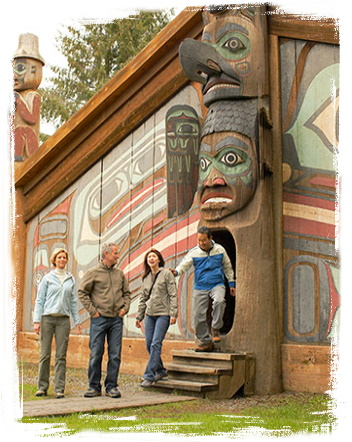 Crunching the Numbers : Alaska Cruise -vs- Alaska Cruisetour : You'd be surprised which is the better value!
ALASKA CRUISES
ALASKA Land & Sea Vacations
Exclusive rates, sailing dates, cabin upgrades, shipboard credits, price reductions and great service from Princess Certified Alaskan Experts.
Explore the rugged Inside Passage and breathtaking Gulf of Alaska, and marvel at spectacular marine life and dazzling glaciers. National Park rangers and Alaska experts come onboard to to enhance your experience and give you a deeper understanding of Alaska Dazzling glacier and wildlife viewing opportunities.
Best Prices + Bonus Extra's = One Great Deal! Learn More
Cruise Tip: Bonus Extra's and Special discounts you may not know about, but absolutely need to take advantage of!
10-15 Day Alaskan Cruisetours
Our Denali Explorer land and sea vacations combine a 7-day Voyage of the Glaciers Alaskan cruise with 3 to 6 nights on land, and up to 4 nights at our Denali-area lodges. Most include exclusive Direct-to-the-Wilderness rail service between ship and lodge. All include the National History Tour into Denali National Park., plus Tundra Wilderness Tour park upgrades. Over 30 cruise tour packages and several rail-and-hotel-only itineraries are available.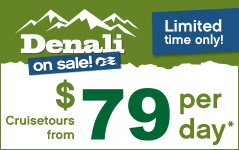 Thrill to White Thunder in Glacier Bay.
"Marvel at sunlight at midnight and close-ups of whales, eagles and caribou. Delight in Denali's (formerly known as Mt. McKinley )majesty and meadows carpeted with wildflowers. Amid unsurpassed grandeur and serenity, the true wilderness of Denali is calling. Catch sight of a humpback whale or wolf pups frolicking in the snow. Alaska is as rustic and romantic as one could ever imagine. Whales, Wonders and Wilderness"
Exceptional Value, Remarkable Offers.
You may be eligible for "unpublished" Onboard Spending Credits, Cash Back, Cabin Upgrades, 2 for 1 Fares, Low Solo Fares, Kids Sail Free or at Reduced Rates, Lower Deposits, Reduced Airfare, Senior Rates, Military Discounts, Mini- Group Rates, or Past Guest Deals not shown online. When it comes to savings, get the latest up-to-the-moment special offers, discount prices, current fares, savings and cabin availability, just call us at 800.365.1445.
We offer some of the best cruise and cruise tour itineraries and affordable prices, plus several even include one or more of the following Alaska Cruises Direct Bonus Extras:*
Up to $400 Onboard Spending Money

Free Specialty Dining

Free Beverage Package

Free Gratuities

Free Onboard Coupon Booklets

Free Cabin Upgrades

Reduced Rates and More!
SEARCH & SAVE!

New! Land Tour Review : Read a detailed review of our recent trip to Interior Alaska. Read the commentary, view dozens of photo's!

Cruise from Seattle - Save on airfare, take an Inside Passage cruise
Cruise from Vancouver - Voyage of the Glaciers Cruise, Whales Wonder & Wildlife
New day. New Alaska Cruise Deal Posts Search This Week's Offers
Big Savings on 2016!
Holland America Line has an exciting promotion planned for the entire month of November: You can save up to 50% off air on select flights
PLUS up to $300 onboard credit per stateroom.
2016 Alaska & the Yukon Land+Sea Journeys & Cruises
Call 800.365.1445 for all the details
Bonus Alaska Land+Sea Offer: Book select Alaska Land+Sea Journeys to receive the above, plus up to $100 per stateroom in Denali Dollars to spend toward food, beverages or land excursions during your Alaskan adventure.

The Value of Knowledge And Know-How, from Alaska Certified Experts. We have Certified Alaskan Cruise Experts who are eager to help you sort through all your options, answer all questions, give you their best advice and book your cruise or cruise tour. Certified Alaskan Cruise Experts have years of hands-on destination experience and expertise in travel to Alaska. And, we're a... Top Selling Agent in North America ...so our buying power and connections go a long way to getting you a great deal! Plus, we offer some amazing shore excursions. Choose salmon fishing, taking a helicopter and flight see over and land on glaciers, kayaking, trekking, panning for golf or feel the exhilaration of riding a dogsled, Alaska shore excursions are all adventure! Read the Official Alaska 2016 Cruise Vacation Guide, loaded with everything you need to know before you go!

Save time, money & stress when you book your Alaska cruise vacation and airfare early with Princess EZair!
View Our Alaska Photo Gallery Video Gallery Summer's the best time of year to explore Alaska's spectacular wonders. Read Article
Complete this thought: My best packing tip for an Alaska cruise is ... click here to answer.
Why cruise Alaska on course when you can adventure off the charts! Learn More
2016 Alaska Cruises : Shore Excursion Deals
Exclusive Cruise Alaska Mini-Group Rates 3 Couples or more extra savings. Families of 4 or more. Save even more! All you need is a few friends or family willing to travel together on the same sailing, and a reason to do it--say a family reunion, birthday, graduation celebration, club outing, or just for fun. Sometimes a group starts as just two couples and before they know it, they've invited enough people to eliminate their own cost of cruising.  Call us for details 800.365.1445. Save hundreds off regular prices.
Special offer for Veterans, Retired and Active Military. Princess honors our U.S. and Canadian militaries with up to $250 free onboard spending money, depending on cruise length. This offer can be combined with other promotions and used on any cruise, any time of the year to anywhere they sail!
Book Alaska cruises early, ships are crowded!
Raye & Marty Trencher's Alaska Cruise Blog

Soaring snow-crowned mountains and majestic ice-blue glaciers, epic national parks and quaint Gold Rush towns, pristine waters teeming with salmon and whales, and sheltered shores watched over by foraging bears. Alaska. This is the place the native Aleutians named "Alyeska" the Great Land Cruise Travel Articles. Read their stories about the glaciers, wildlife, frontier towns, and more. Click on a topic below or >> Go here to learn more.

Roundtrip Seattle Land + Sea Vacations
Did you know? We have a Seattle Advantage package that you can add to virtually any of our Land + Sea Vacations. All you need to do is get yourself to/from Seattle. It includes a Seattle hotel overnight, air travel to/from Alaska, and the motorcoach transfer to get you to/from your ship in Vancouver. Sound simple? It is! In fact, we've taken it one step further. We can build versions of some of our most popular Land and Sea Vacations with the Seattle Advantage package for a complete, convenient, and hassle-free vacation experience. Just call us at 800.365.1445 to get started. Learn More

Alaska's Spectacular Sites and Surroundings

Are you ready to be awed? From Skagway to Sitka , Katmai to Ketchikan, there are frontier towns, Glorious Glaciers, Wolf, Moose, Caribou, Eagles, Whales, Bear and more. Choose an article below and read our latest picks of Alaskan wonders that are sure to take your breath away!.